Region Map
ACSA Regions 1-19
ACSA's 19 regions divide the state geographically, allowing the voices of members to be heard at the local level. Each region elects officers who serve as representatives on the state Leadership Assembly.

Regions offer networking opportunities, professional development and programs tailored to meet local needs.

Within each region are smaller charters, which give ACSA its grassroots strength. Charters can be geographical in nature or focus on specific membership types, such as aspiring administrators or retirees.

For a complete listing of all ACSA leadership, login to view the current Leadership Directory.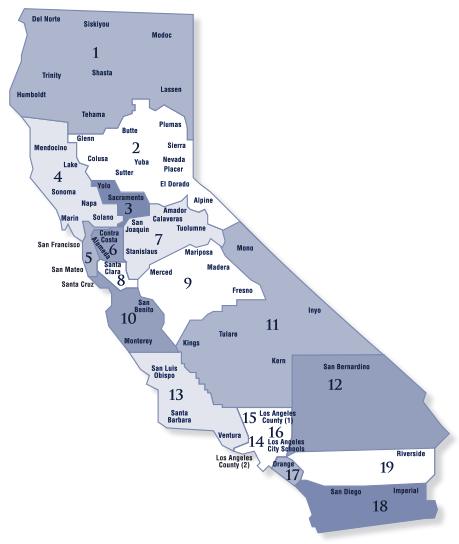 Click on a region to link to the region website, or select from the dropdown below.
---
Member Login
Join ACSA
---
With questions or for more information about ACSA regions, contact Member Services.
Region & Charter Events
Region & Charter Events
Click the small arrow at the top right corner of the event list to view only your region's calendar.
Not seeing your region's events? Contact your region leadership to let them know.
Region Staff
Region Staff Directory
Region Resources
Resources for Region Leadership
Planning and Reporting Template
---
Leadership Training
Leadership Manual
View and download the complete Leadership Manual; view the Region section for all training materials
For all 2022-23 training materials, please login to your member profile and click "Member Resources"
---
Community Engagement Resources
Tools of the trade for building community engagement in your schools and neighborhoods.

---
Toolkit with helpful information to assist you in setting up and using social media.
Download the current form with updated guidelines and instructions.
---
View and download reporting information and requirements for regions.
---
This toolkit is designed to provide context surrounding the employment relationship of paid ACSA region staff and serve as a resource for both region leaders and employees.

---
Find up to date resources on the ACSA Awards Program, as well as an archive of past winners.
---
Calendars
---
Region Nomination Form
Charter Nomination Form
Council & Committee Nomination Forms
Outgoing Region Leader Certificate Forms
---
ACSA Bylaws & Policies
To view a section of the ACSA Bylaws, Policies & Procedures, select from the dropdown menu below.